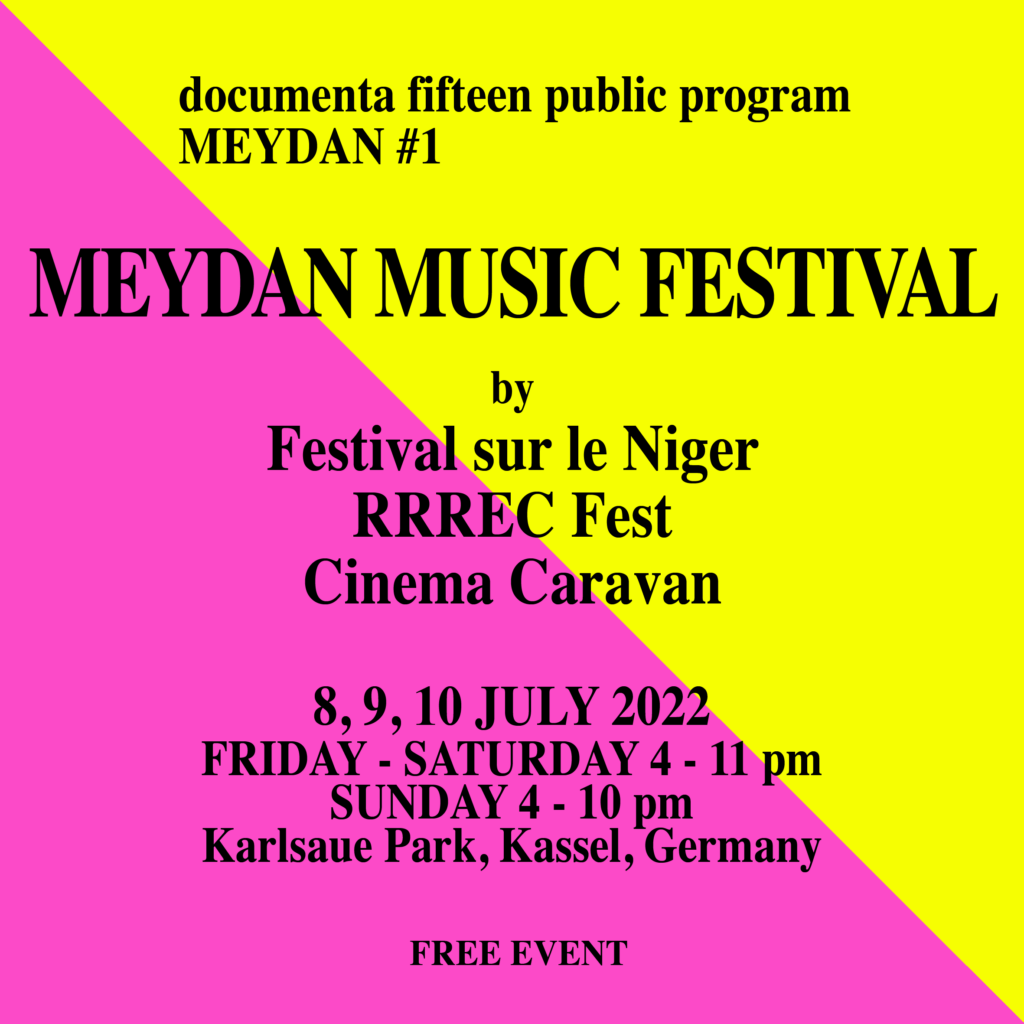 documenta fifteen public program
MEYDAN #1
MEYDAN MUSIC FESTIVAL
by Festival sur le Niger, RRREC Fest, Cinema Caravan
8, 9, 10 July 2022
Fri – Sat: 4 pm – 11 pm
Sun: 4 pm – 10 pm
Karlsaue Park, Kassel, Germany
A collaboration between 3 festivals (Fondation Festival Sur Le Niger, Cinema Caravan, and RRREC Fest) with performers from various backgrounds across the world, to deliver a 3-day gathering in a casual hang-out atmosphere that is intimate and friendly. Each invited performer possesses unique musical characteristics, lyrics, and stage performances – which will alternately bring different kinds of sensational sounds and vibes, when they perform in a city park open-air scenery.
Festival sur le Niger
Featuring:
CHEICK TIDIANE SECK
SALOMÉ DEMBÉLÉ
SAMBA TOURÉ
FARDO
MANDE JURU
MARIAM KONÉ
FFSLN ALL STARS
RRREC Fest
Featuring:
OTOBOKE BEAVER
WHITE SHOES & THE COUPLES COMPANY
KIRARA
STYLISH NONSENSE
PISITAKUN
BACHRATTEN
MURDER OF MAGPIES
Cinema Caravan
Featuring:
MASAYA FANTASISTA & MIKEY VAROT
KONGO DIA NTOTILA
KID SUBLIME
EDNA MARTINEZ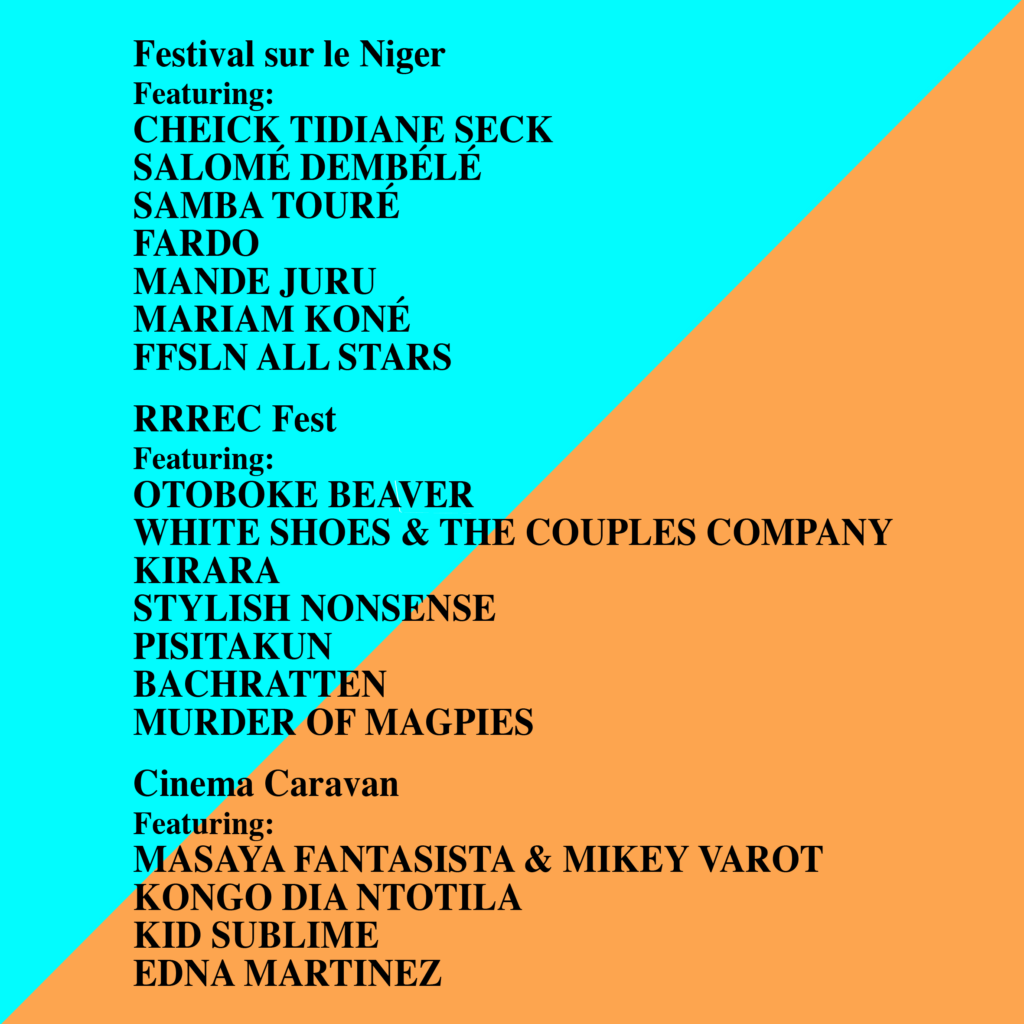 Festival sur le Niger
Fondation Festival sur le Niger aims to unite energies and bring together certain expertise for the development and improvement of the arts and culture professions in Mali and in Africa. It was born from the incredible cultural, social, economic and tourist momentum generated in recent years by the advent of the Festival sur le Niger in Ségou and the various initiatives linked to it.
Since 2005, the 'Festival sur le Niger' has been organized each year in Ségou, Mali. The Festival is a true multidisciplinary event, offering a program of music, dance, theater, art exhibitions, discussion forums, conferences and more. It's a festival where contemporary culture exists alongside ancient tradition and international music stars play alongside fresh young talent.
Cinema Caravan
Cinema Caravan started with the concept of "Playing with the Earth", and it has become a bridge between cultures and people through its journeys. Founded in 2010 by members who created the first Zushi Beach Film Festival in Zushi City, Kanagawa Prefecture, Japan. The group is formed by artists, musicians, painters, carpenters, cooks, and others from a variety of genres. While it works as a catalyst to revitalize the region through collaborations with local people and culture, it is also a collective that directs and creates spaces for art and film festivals.
Cinema Caravan is in a sense both a project and a collective of people with these various aspects and characters. They continue to create a cycle in which they bring the experiences and connections we have cultivated back to our own local communities, develop them, and then return them to our destinations.
The project started as a screening in the open air to create a place where people can feel with their five senses, prompted by various kinds of mediums, from video, food, music, art, to sports. It has evolved a medium to create expressions and shared experiences that go beyond the screen experience.
RRREC Fest
RRREC Festis an annual music festival which takes place since 2010. RRREC Fest showcases and unites various artist groups, communities, musicians and music organizers from many places. RRREC Fest is ruangrupa's effort together with young artists to put forth fresh, innovative and inspiring ideas for multi-generational music-loving people and citizens of Jakarta from various backgrounds in general.
RRREC Fest is a statement on the importance of alternative spirit, not only imperative in the music world, but also in many facets of cultural practices. RRREC Fest is a place of meeting for music lovers while serving the function of creating new networks with musicians, bands, performers, independent music festival organizations, especially those coming from Asia and its surrounding region, enabling dialogue for new collaborative works in the future.
http://rrrec.ruangrupa.org/web/about/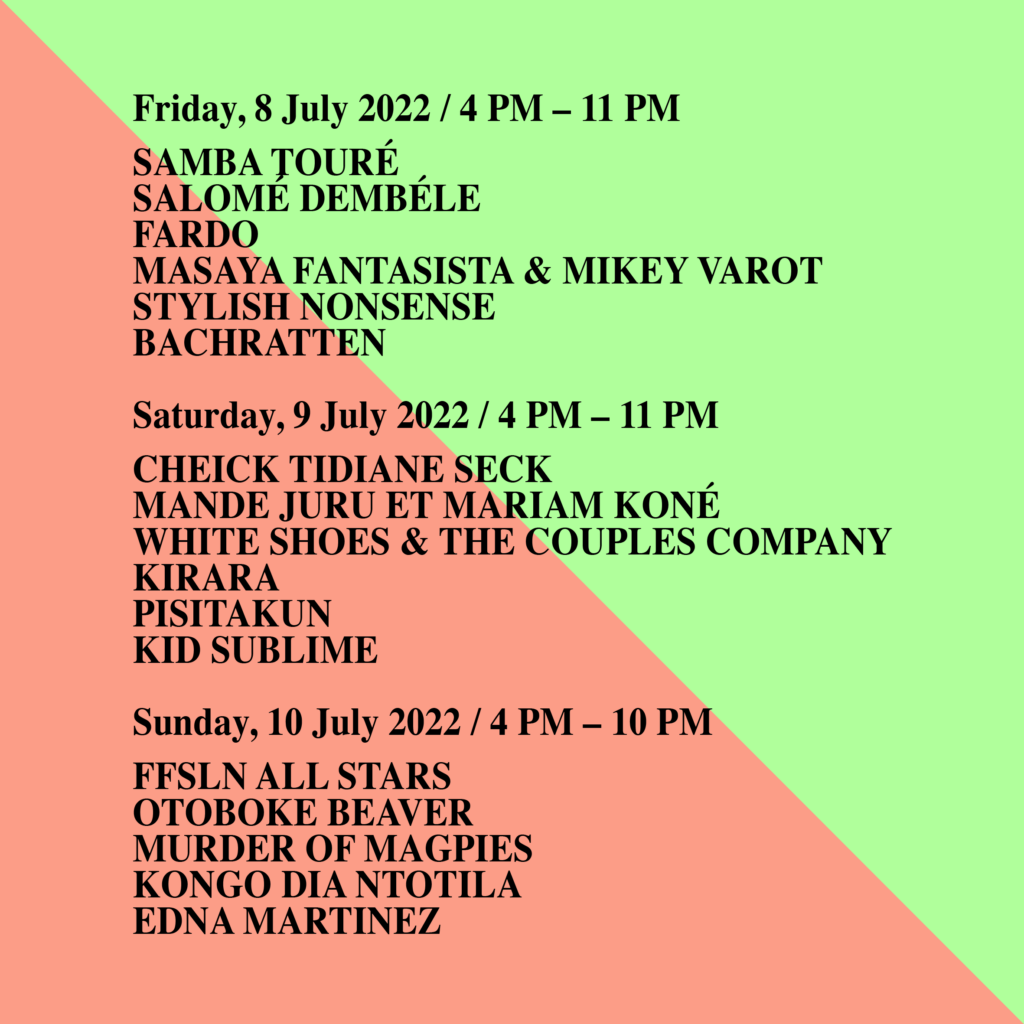 PROGRAM
Friday, 8 July 2022 / 4 PM – 11 PM
SAMBA TOURÉ
SALOMÉ DEMBÉLE
FARDO
MASAYA FANTASISTA & MIKEY VAROT
STYLISH NONSENSE
BACHRATTEN
Saturday, 9 July 2022 / 4 PM – 11 PM
CHEICK TIDIANE SECK
MANDE JURU ET MARIAM KONÉ
WHITE SHOES & THE COUPLES COMPANY
KIRARA
PISITAKUN
KID SUBLIME
Sunday, 10 July 2022 / 4 PM – 10 PM
FFSLN ALL STARS
OTOBOKE BEAVER
MURDER OF MAGPIES
KONGO DIA NTOTILA
EDNA MARTINEZ