Gratitude towards those who made documenta fifteen possible for us:
Project was funded by documenta fifteen and Goethe Institut, New Delhi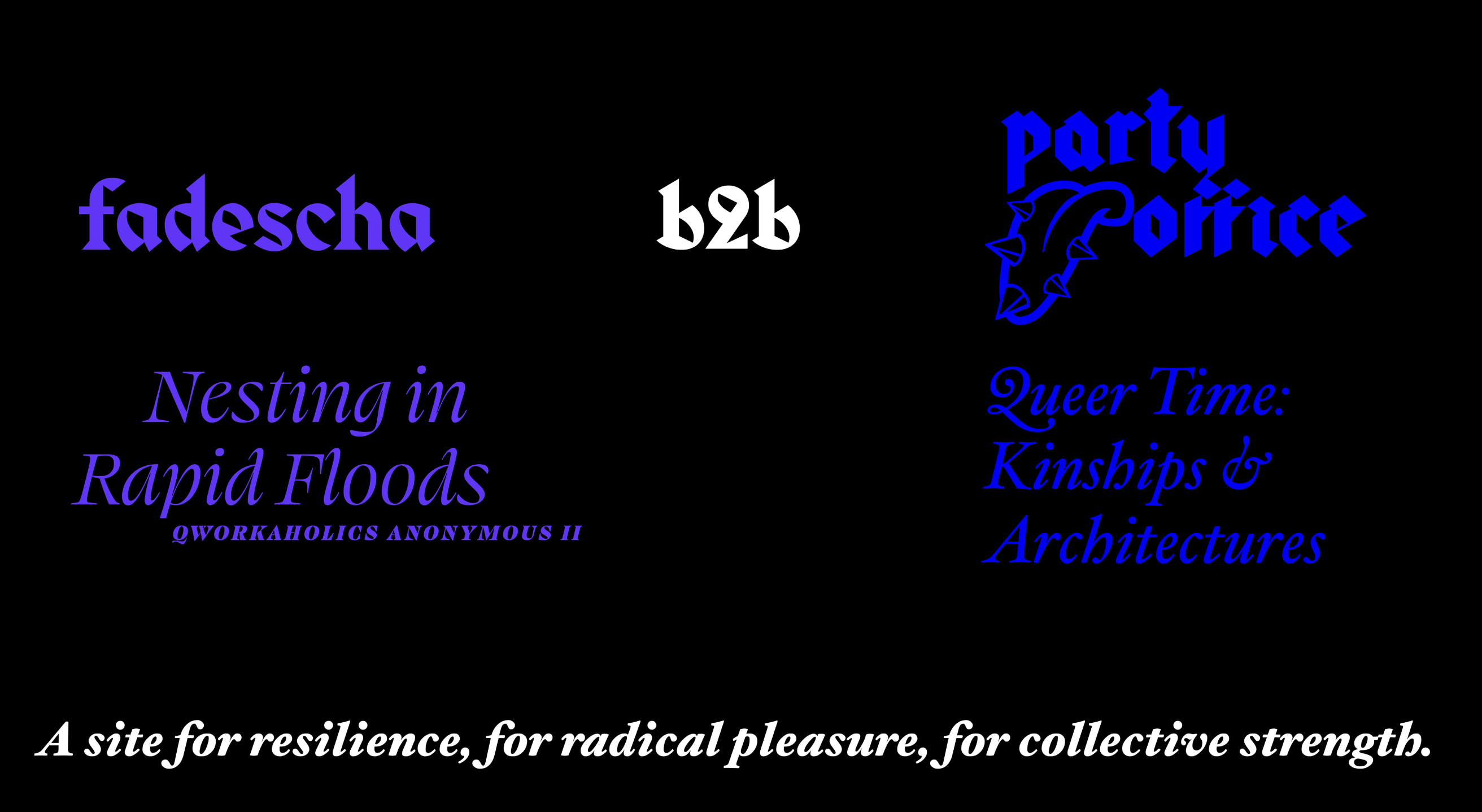 Party Office is an anticaste, antiracist, transfeminist art and social space based in New Delhi, India, also at satellite locations and as conceptual architecture. Through publications, grants, radical archives, conversations of life lived, social gatherings, parties and more, we are building transnational dialogues on empathetic futures, care communities and radical agency. Party Office is founded by artist-curator Vidisha-Fadescha in 2020.

Party Office space "Queer Time: Kinships & Architectures"
This satellite location at documenta fifteen holds a social-spatial exploration of 'Queer Time' at it's focus, affirming the joy of trans* and BIPoC communities who have been systemically marginalized by ongoing violences. Taking forward our idea of parties as important sites of liberation, the space aims to reorder neo-liberal definitions of productive time, centering rest, rave, and radical pleasure as primal processes towards resilience.
Curated by Vidisha-Fadescha and Shaunak Mahbubani
Design Credits Amrish Kondurkar, Bär, Jonathan Eden, Fadescha
Exhibition Design Amrish Kondurkar, Shahmen Suku, Shaunak Mahbubani, Fadescha
Mad Time Warp curated by Joey Cannizarro, Ramya Patnaik
The Archive as Contemporary Object X curated by Ali Akbar Mehta
HyperVigilant Mixes curated by Ramya Patnaik, Fadescha
Press Abhinit Khanna
Project Managed by Juca Fiis, Karan Kaul
Curatorial advisors include Ali Akbar Mehta, Jyotsna Siddharth, Amrish Kondurkar, Abhinit Khanna, Ramya Patnaik, Aru, Vidha Saumya and Joey Cannizzaro.
Grateful to all of documenta team.

"Nesting in Rapid Floods: Qworkaholics Anonymous II"
A video by Vidisha-Fadescha
"They act so fast and repeatedly, that they don't allow you to mourn, cause if you did you'll know what has been really lost." Radical figures in proximity perform the nurturance of queer kinships and care as a pivotal form of labour. The series 'Qworkaholics Anonymous', initiated by Vidisha-Fadescha, reimagine the format of de-addiction programs to create space for 'doing nothing', asserting that trans* and other radical figures do important work in their very acts of survival. In 2022, Fadescha invited Kinkinella and Shaunak Mahbubani for Meeting II of the series to share space and time, to explore various body movements and gestures, recreating some archival images, while also reflecting embodied multi-generational histories of trauma. A continued interest in protest photographs, Vidisha is interested to recreate an experience of what leads to such formations, and what kind of power or fatigue do we embody.

Concept & Direction: Vidisha-Fadescha
Performed by Kinkinella, Shaunak Mahbubani and Fadescha
Sound Design: Corazon de Robota
Director of Photography, First Camera: Ada Navarro
Second Camera: Maria Jorge Medina
Director of Choreography: Caitlin Adams
On-site Production: Aom
The land and people of Tepoztlán, Mexico.
Archival visuals documenting the continued resistance in Kashmir, Black Lives Matter Movement and Savitri Bai with Fatima Sheikh.


Super grateful for your presence, work, performance and support:
Abdul Dube / Ada Navarro / Ade Darmawan / Ajeng Nurul Aini / Arte / Akanksha Rastogi / Alex Yudzon / Alia Sinha / Alice Yard / Aki Hassan / Ahmed Awadalla / Animistic Belief / Another Roadmap Africa Cluster / Angel-Ho / Alexander Farenholtz / Amrish Kondurkar / Amrita Khanna / Andrea Goetzske / Andreia C.B. / Ankita Tanwar / Anna Ehrenstein / Annie Jael Kwan / Aom / Aru / Ashok Bankar / Aurélie / Bär / Ben / Benji Hart / Bruce Cayonne / Breezy / Bo Melanie / Caitlin Adams / Catu Diosis / Caius / Coral / Christian Nyampeta / cyborgrrrls / Dalida Maria Benfield / Daniella Fitria Praptono / Denisse / Derozan / Dhrubo Jyoti / Eden / Elayn / Eli Moon / El Hajar / Eugene Yiu Nam Cheung / Farah Batool / Farid Rakun / Farbod Fakharzadeh / fka.m4a / Furqan Jawed / Gertrude Flentge / Grace Banu / Bebbo / Gursy Singh / Harry  Gamboa Jr. / Indra Ameng / Insan Mardhika / Iswanto Hartono / Jasa McKenzie / Jesús Hilario-Reyes / Joey Cannizzaro / Jonathan Eden / Jonas / Juca Fiis / Julia Sarisetiati / Jasmine Infiniti / Jyotsna Siddharth / Kanika Kuthiala / Karan Kaul / Kasia Wlaszczyk / Katrin Winkler / Kathrin / Kayal / Keng Sen Ong / Kenan Darwich / Khaleb Brooks / Kira Goldbourne / Kinkinella / Kunal Singh / Latoya Aroha Rule / Lara Khaldi / Larissa Hüttenhein / Liew Niyomkarn / Lilliana Alba / Lisa / Luise Nübling / Luz / Lydia Antoniou / Lyon / Marc Ole / Madhumita Nandy / Malini Kochupillai / Maram Yassin / Maria Jorge Medina / Martin Fokken / Max Folly / Meghan Gordan / Meli Aguilar / Mohini / MF Akynos / Mirwan Andan / Molemo Moiloa / Montgomery Gurns aka Myles / Nare Mokgotho / Nadir Bouhmouch / Natasha / Narpati Awangga / Naya (Fka Lux Venérea) / Nsasi / Neeraj Kumar / Nikhil D / Niki / Nino Bulling / Nygel Panasco / Olliee / Okhiogbe Omonblanks Omonhinmin / OP Saini / Padmini Ray Murray / Pinar / Pêdra Costa / Pooja B / Pooja Kasbe / Prabha Om / Pranita Thorat / Q / R3IGN DROPS / Rachel Graham / Rajyashri Goody / Raphael / Ramya Patnaik / Rashmi Munikempana / Reza Afisina / Reishabh Kailey / Reinaart Vanhoe / Rio / Roshell Terranova / Roslyn Dmello / ruangrupa / Rukhmaji Tikaram Gaikwad / Rzouga / Sabrina / Samara H / Samandal Comics / Sami Rustom / Samiksha Mourya / Serigrafistas Queer / Shahmen Suku / Shaunak Mahbubani / Shasti / Shivanjani Lal / Smita Urmila Rajmane / Slim Soledad / Soumeya Ait Ahmed / Sunil Abhiman Awachar / Swazi / Tamara Rosenblum / t[Abiye] / Tiona Nekkia McClodden / Theresa / Tsohil Bhatia / Tyuki Imamura / Turkana / Va-Bene Elikem Fiatsi / Vangjush Vellahu / Veronika / Vic / Vidha Saumya / Violet / Will Fredo / Yasmine Eid-Sabbagh / Yogesh Maitreya / Zah / To be updated.
All of the Protex team that supported us at our parties.
All the journalists who believed in our story.
All the people at our parties who respected the space, and brought their vibes together to make this phenomenal.

Mad Time Warp
Curated by Joey Cannizzaro and Ramya Patnaik
Alice Z Jones / Ramya / Caius / Liew Niyomkarn / Ky Amistad / Kintrala / HYENAZ / Johanna Hedva / Lain Iwakura / Syd Lewin / librāh / kid death / Libra / Christopher Cole / Alcide Breaux / Sanni Est / Dana Lorenz / Vamp Acid / Sophie / Hoyle / Cedric Tai / Iszlai / Ps1 Fever Dream / Prerit Jain / Nour Sokhon